The global online English-as-a-second language learning market in 2021 is worth up to $10 billion (22% of the total ESL market).
China could be ~15% up to 49% of the global digital English language learning market, but exact figures are hard to pinpoint. Major changes in CCP policy will impact the industry significantly.
Note: Teachers – please consider in the reading of these figures, especially around 'EdTech' and 'Digital English Language Learning' that while indicative of market size and demand for English learning – are also representative of other technology in addition to online ESL teaching itself (and include a lot of financial hype). All figures quoted in this post are in USD (unless otherwise stated).
The online ESL market in 2021; What do we know?
Recent changes in Chinese government regulations relating to the provision of after-school tutoring services are big news in the online English community right now. In the latter half of 2021, many online English teachers watched in dismay as a billion dollar industry all but disappeared overnight.
These measures have resulted in overseas-listed EdTech companies (a portmanteau of Educational and Technology, see "EdTech; What is it?" below for more information) such as New Oriental and TAL Education Group losing more than half of their value this year and most of the major Chinese online English tutoring either closing completely or quickly trying to pivot to alternate markets.

This is not the first time China is regulating the sector. A report from the University of Hong Kong outlines an earlier attempt in 2018 that tried to ban tutoring activities after 8:30 pm. As Yahoo Finance reports, "That didn't stop the development of the sector. Often these reforms have a lot of noise but little substance behind them".
At this early stage, it is difficult to say what the full impact of this decision may be and finding data about the industry from a 'big-picture' perspective can be difficult, but we can get a broad overview. By taking all of the most recent, freely available information about the market, I'll look into the what we do know about online ESL in 2021 and what teachers (particularly independent ones) might want to consider in order to stay competitive and be successful in the industry moving forward.
The Chinese online ESL market; How big is it?
In 2017, according to the estimation of iResearch, the size of [China's] online youth English training market [was] around 1.97 billion RMB ($3 billion) but there has been "frenzied growth" in the years since, so figures are likely much higher. In 2019, VIPKid (one of the largest online ESL companies from China) had over 70,000 teachers.
In 2017, China accounted for "61% of all revenues for Digital English Language Learning products in Asia Pacific", with the Asia-Pacific digital language learning market estimated to be worth $2.45 billion in 2018. Using these figures, China likely represents ~15% ($1.47 billion) or more of the global industry size (if measured by the $10 billion valuation in 2021) by revenue. 

This figure is likely higher though, due to rapid investment into the industry between 2018 and early 2021. $10 billion of venture capital had been invested into Chinese EdTech in 2020 alone. Some reports claim that the Chinese market takes up about 49% of the global Digital English Language Learning market, although it is very difficult to find exact numbers as most of the studies done in this area are very costly to access.
The adult market in China is also very large and not likely to be affected directly by recent policy changes relating to after-school tuition. ESL for adults (online and offline) had a reported value of 37 billion RMB ($5.5 billion) in 2019, yet it is unlikely that this will scale in the same way that has been done with children in the past decade. Whereas Chinese parents have been willing to invest heavily in years of tutoring, only 14% of adults stick with English learning products for more than one year, with a majority losing interest after 1-3 months. For teachers, this means an opportunity in this market, as long as they note the likely higher turnover of students. 
The huge recent investment in education technology (EdTech) – which can encompass a wide variety of products used in the provision of education – such as "language apps, virtual tutoring, video conferencing tools, or online learning software", shows increasing financial interest in online education. The online ESL market is only one small part of this larger technological change which has seen "a significant surge in usage since COVID-19" says the World Economic Forum.
HolonIQ report that more than "280 listed education companies in 33 countries, representing over $250 billion of market cap, $80 billion of revenue and over half a million professionals and teachers" are still expected to grow. From 2-4 EdTech company IPOs (companies offering stock publicly) in 2000, there were 17 in the first quarter of 2021 alone. This will [be predicted to] "increase by 100 listed education companies with over $1 billion market cap [in the same time period] before 2030, perhaps by 2025". It is worth noting that many of these were Chinese and this is likely to fall with the most recent CCP directives directly impacting such public listings but by how much is still uncertain.
The EdTech market is mainly B2C (Business to Consumer) but there is a significant increase in the amount of C2C (Consumer to Consumer). The latter is defined as a "platform [that] acts as an enabler for students and teachers to interact". Many teachers working online will be familiar with these platforms, or 'marketplaces', including Ukrainian company Preply (recently valued at $32.5 million) that facilitate connections between teachers and students around the world.
In their 'Education in 2030' report, HolonIQ outline five different scenarios that may occur within the global education environment in the coming decade. One possibility lies in the growth of P2P (Peer to Peer) learning, where "learning online through rich, personalised human to human experiences dominates the post-secondary and skills training sectors". It is unclear if this is predicted to occur with or without a third party connecting the two.
For freelance teachers, these trends and predictions bode particularly well. If there is a sustained growth in the demand for flexible, on-demand and personalised learning in the online ESL market, savvy teachers who market their services directly to students and their parents will be poised to benefit greatly from offering this option. The facilitation of easier international payments with blockchain between student and teacher was suggested in the HolonIQ report, which will be an interesting development to track into the future and would benefit teachers greatly.
The global online ESL market; Bigger than China?
With more than 1.5 billion English learners (up to 1.7 billion by some estimates) increasingly 'going digital' – in addition to the traditional English language market – the worldwide COVID-19 pandemic has greatly changed the face of the online ESL sector. Some estimate the global online English-as-a-second language learning market in 2021 is now worth $10 billion (22% of the total ESL market), with ESL for children estimated at $3 billion (32% of online ESL in 2021).
Europe followed China (with 16%) as the second biggest market for digital English language learning. In 2018, 96% of pupils in upper secondary education in the EU-27 learnt English as a foreign language. The largest ESL markets in Europe are Germany, France and Russia.
Maxim Azarov (founder of Novakid, a US-based teaching platform that caters to the European market) said in a recent interview that "The popularity of online English language training for children has increased significantly since the pandemic began.  A year later, it is still growing, and is poised to continue to grow exponentially. We believe this is a consequence of the wider availability of quality online English learning platforms for children, the expansion of career opportunities for those with a good command of the English language, and an increase in remote working". 
When interviewed, 61.34% of students studying English online expressed that "learning from your home" was the main benefit of online tuition. 22.69% selected "flexible timetable" and 15.97% chose "cost".
Online ESL for International Students?
Prominent sending countries of international students include China, India, Germany, Republic of Korea, Nigeria, France, Saudi Arabia and several Central Asian countries – with roughly 0.25% of global learners travelling abroad to learn in a local, native environment.

Recent post-COVID interviews with students studying English abroad found that "[overall], the majority of language school respondents in a post-COVID-19 world would prefer a hybrid learning experience or a fully online programme, and therefore online tuition should remain at the forefront of the language learning experience offered."
A combined total of 83.14% of students stated that they are 'very likely or 'likely' to learn languages online in the next five years and this "is a positive outcome for the language learning industry as a whole" says the IALC.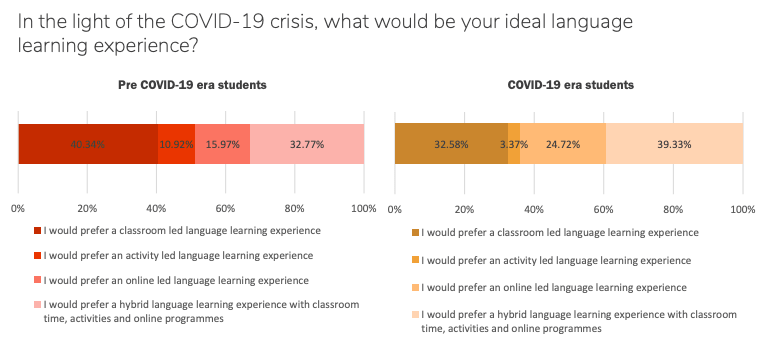 The global ESL market; Still growing.
It is predicted that China and India (the largest segments of the global ESL market in recent years) are to be joined by an increasing demand for English language instruction in Indonesia, Pakistan, Brazil and Mexico, as well as the large African countries, particularly Nigeria, Ethiopia and Sudan.
There are also countries with a variety of large-scale pushes for English instruction such as Russia, Vietnam and Japan. 
The English Language Learning market in the U.S. is estimated at $2.8 billion in 2020, with the country currently accounting for a 28.77% share in the global market. Japan and Canada are each forecast to grow at 11.5% and 14.1% respectively over the 2020-2027 period. 
Of the 1.5-7 billion global English-language learners worldwide, "there are [at least] 750 million English as a foreign language speakers and 375 million English as second language learners." says The British Council.
Broadly (online and offline), the global education market is set to reach $10 trillion or more by 2030, driven by population growth in developing markets and expansion, as technology "drives unprecedented re-skilling and up-skilling in developed economies. Asia and Africa are the driving force behind the expansion".
There are currently an estimated 12 million English teachers worldwide, yet The British Council states that "the world needs to add 1.5 million teachers per year on average, approaching 100 million in total in order to keep pace with the unprecedented changes ahead in education around the world".
While it is very difficult to get a good overview of the global online ESL market in 2021, some trends do emerge. The COVID-19 pandemic has accelerated the uptake of online education and if trends continue, digital learning will likely increase from the current minority share of the ESL industry. With the potential growth of online English language learning platforms and peer-to-peer learning, the landscape seems highly favourable for independent, freelance English teachers. Both the number of children and adult English language learners are increasing worldwide.
China remains the largest segment of digital English learning market, followed by Europe. Changes in Chinese policy regarding online ESL tutoring for children will be significant but it is too early to tell by how much. Separating tangible demand from potentially inflated recent investment figures is difficult to do without more transparent data. EdTech is making record profits but the direct benefit to teachers there is difficult to measure. There is still a notable Chinese market for adult language learning, irrespective of CCP policy.
Growth in the demand from India, Indonesia, Pakistan, Brazil and Mexico (among many others) is increasing offline and so may be reflected in the online space in the coming years. In the foreseeable future, many international ESL students are happy to continue studying (at least partially) online. The global English language learning market is growing and set to continue such growth into the foreseeable future.
How do you think the online ESL market will change because of China's policy changes? Comment below.
Importantly, while global trends can help paint a 'big picture' for teachers, having good relationships with and an intimate knowledge of the needs of your students will ultimately result in much greater dividends. Whether online or face-to-face, students are seeking high quality tuition from passionate educators. If you're interested in starting your own online independent, freelance teaching business, please express your interest in coaching from a teacher with 10+ years in the industry and extensive experience in attracting and retaining private students at up to $100AUD/hr.