Do you want to earn $25 - $100AUD an hour in an enjoyable, flexible, work-from-home role?
REGULARLY UPDATED [2021] list of the top paying 25 online English tutoring jobs for Australians & New Zealanders.
Do you want to find the perfect online English tutoring role?
When I first began looking for an online English tutoring job during my university degree in early 2016, I was overwhelmed by information. I applied for the first job that I found on a popular job website, passed their interview and began tutoring at an hourly rate that I though was quite good.

With nothing to compare it to – I didn't know that I could have been making so much more! Don't make the same mistake as me. 
There are 100s of tutoring companies around Australia and only a fraction offer 100% ONLINE tutoring;
Jobs range from $25AUD to ~$100AUD/hr+ and it isn't easy to compare how much each company offers;
Some companies only hire current students, while others only hire qualified teachers, and it is difficult to know.
Instead – save time, make more money and find out all the information that you need to find the best online tutor role with this list…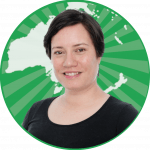 Kate Zarb, (GradCertEd TESOL)
Founder, Teach English Online (Australia & New Zealand)
10+ years in TESOL (Teaching English to Speakers of Other Languages)
Why become an English online tutor?
The 'teach' in this website usually refers to teaching English online to students located internationally – but there is another option for working from home – tutoring. One in seven school children in Australia will be tutored at some time during their lives. According to Mohan Dhall, CEO of the Australian Tutoring Association, "… there's about 80,000 students who engage in some form of tutoring in Australia. As an industry, it is conservatively valued at around $1.3 billion and growing." 

Online English tutoring is the perfect role for:
Those who want to work after-school hours and weekends;
Those who want to supplement their income with part-time work;
University students;
Current or retired teachers;
TESOL/TEFL certificate graduates. 
During the COVID-19 pandemic, demand for tutoring services – especially online – has increased. 
What do you need to apply for a tutor job online?
While there are no specific qualifications or experience that are required to be an English tutor in Australia, there are a few things that will help you to be successful:
A high ATAR in English subject/s;
Good knowledge of English grammar, linguistics, phonics etc;
Knowledge of the national curriculum;
Experience working with young people.
Only about 10% require formal teaching qualifications (but qualified teachers will likely earn the highest rates).
You will also require a Working With Children Check (WWC) and to be able to pass a background/police check in your state of residence.
Hourly rates (minimum and maximum range – pro rata) in AUD and NZD;
The average rate is $40AUD/$43NZD but goes up to $100AUD/$106NZD (including superannuation);
Peak booking hours;
Class size (number of students);
Student ages;
Experience requirements (in years);
Teaching material provided or required;
City of company/location of students (for potentially additional in-person lessons, if desired);
Notes on job and company specifics.
You will get LIFETIME access to a regularly updated Google Sheet.
Click on the included links to begin applying immediately.
If you are not happy with the list, you can ask for a full refund within 7 days of the purchase date.
DISCLAIMER: I am not liable for any action that you take or outcomes that occur as a result of this list. Please do due diligence.
I AM NOT AN REPRESENTATIVE OR EMPLOYEE of any companies on the list. 
Want to also do some online English tutoring and teaching to students around the world?
List of International companies that offer online English teaching jobs. Perfect if you want to teach both adults and young learners. Click here. 
Am I guaranteed a job?
No, we cannot guarantee you a job, unfortunately. This list provides you with the best, most recent info so you can maximise your chances at an online English tutoring job.
Can I get a refund?
Yes, if you are not happy with the list, you can ask for a full refund within 7 days of the purchase date (minus any fees occurred in the transaction).
Need more information?
Please email me with any questions and I'll be happy to answer them.